DUE TO HEAVY ACCUMULATION OF SNOW ON THE ROAD GOING TO CAMP, we have had to make the tough decision to cancel the weekend. With more than 10 inches of snow and ice, it is too risky to have cars going in and out. We are deeply disappointed but wish to avoid devastation. We will look forward to seeing you all another time!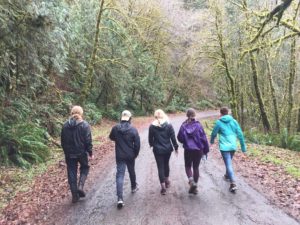 Prepare for a weekend of fun, community, hope, discovery & strength. Through play and sharing, we will delve into helpful ways of caring for our mental health as an expression of caring for God's creation. We will explore ways that we can find and give strength to others, so that no one gives up, even through life's hardest moments.
We are excited to welcome Jill Baker to facilitate group sessions. She has a rich history working with teens & young adults. She currently works with the Albany MYF and is former PNMC Youth Minister. Jill and husband, Ben, served two years as Service Adventure leaders in Albany. Jill is mom to Jocelyn (18), Areanna (12), Jakoby (8) and Nolan (6). Currently, Jill coordinates mental health services through Oregon Health Authority, focusing on suicide prevention. And it will be a pleasure to have Mervin Kropf returning to DCC to head the programming for the weekend.
The casual weekend will provide opportunities for youth to fellowship, worship, engage in conversation, play, laugh, get outside, enjoy camp food favorites, get crafty, and the relaxed time frame will even allow for a little sleeping in! Since many students will have final exams in the days following the retreat, there will also be time set aside for studying. Campers will enjoy group activities, games, quiet time, and possibly even doing a little service work for DCC.
The weekend retreat cost is $100 per person. We hope that youth will take advantage of this opportunity to gather with folks that they may only see once per year. It's an opportunity to build friendships and enjoy time at DCC, which for many youth, has become a home away from home. Our goal is to nurture a sense of community. We hope to provide a safe place for emerging adults to take a look at their inner strengths. Jill will guide discussions that will empower campers to learn to care for themselves as an expression of caring for God's creation. They will also explore ways to support each other in community. Our faith community is a gift.
Please mail Registration form and $100 payment by January 12 to Drift Creek Camp, c/o 22455 Finn Road, Sheridan, OR 97378
Please pack:  Campers will be sleeping in the lodge which is heated, but you'll still want to bring warm clothing options as it can get drafty, especially downstairs. Pack your sleeping bag, pillow, flashlight, towel, toothbrush, etc. For the sessions, bring  your Bible, journal, pen. For activities, bring your water bottle, rain gear, shoes for outside in case of rain. Bring clothes and shoes that can get muddy and a plastic bag in which to haul them home! (It's winter so plan on cooler temperatures than summer camp. An extra blanket might be good!) 
Please bring:  Either eat on the way and get to camp by 1pm or bring along a sack lunch for Saturday and arrive by noon. Camp will have some prepared snacks, but if you have a favorite snack that you'd like to share with the group, bring it along. If you have a favorite table or card game, guitar or ukulele for evenings, feel free to bring it along!
Merv will bring his t-shirt press and old camp logos. He will have some give-away shirts available but if you want one that you know will fit you or if you have sweats or other apparel that you'd like to add a camp logo to, bring it along! T-shirts are the easiest to print on.  In crafts we will be making one-of-a-kind accordian books. These are great for including favorite scriptures, quotes, words of inspiration, etc. If you have a collection of favorites, bring them along. Paper and painting supplies will be provided.
We hope you will join us!