2019 High School Youth Retreat
January 18 – 21, 2019
More details coming soon…but here are some basics:
All high school age campers are invited to gather at DCC for the Martin Luther King, Jr. weekend. (Over the years, we've heard many campers request more opportunities to see camp friends another time during the year. Since we can't have regular summer programs in 2019 due to the culvert work at North Creek, we are experimenting with this idea, but hope to make this an annual event. The MLK Jr. holiday falls roughly mid-year between summer programs and will be a wonderful time to explore ways to apply things learned at summer camp into everyday life. As my friends Eric and Laura say, we'll be able to "Feed two birds with one scone" as we give youth another opportunity to gather while also exploring meaningful ways to apply things learned at summer camp into real life.) 
Afterall, (to quote Michael Dougherty):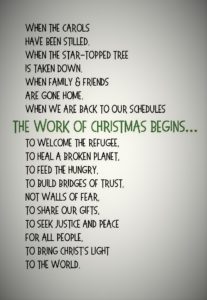 The casual weekend will provide opportunities for youth to fellowship, worship, engage in conversation, play, laugh, get outside, enjoy camp food favorites, get crafty, and the relaxed time frame will even allow for a little sleeping in! Since many students will have final exams in the days following the retreat, there will also be ample free-time for studying and the event will conclude mid-morning on Monday. Campers will enjoy group activities, games, quiet time, and even doing a little service work for DCC. 
The cost of the long weekend will be $125 per person. Since we won't be able to have regular camp programs next summer due to the road closure, we're hoping that youth will be able to take advantage of this opportunity to gather with folks that they may only see once per year. It's an opportunity to build friendships and enjoy time at DCC, which for many youth, has become a home away from home. Our goal is to nurture a sense of community. We hope to provide a safe place for emerging adults to talk about the challenges of following Christ in a broken world. 
2019 Youth Retreat Registration
Please mail Registration form and $125 payment to Drift Creek Camp, c/o 22455 Finn Road, Sheridan, OR 97378
Please pack:  sleeping bag, pillow, Bible, journal, pen, flashlight, water bottle, rain gear, shoes for outside in case of rain. Bring clothes and shoes that can get muddy and a plastic bag in which to haul them home! (It's winter so plan on cooler temperatures than summer camp. An extra blanket might be good!)
Please bring:  a favorite snack to share with the group and your favorite table or card game for evenings around the orange tables!
In the spirit of welcoming, there will be an International Dance so bring along something that represents your personal heritage, a culture you have visited, or one that you are curious about.
We hope you will join us!