Annual Members' Meeting
November 5-7, 2021
As the situation with the coronavirus Delta variant evolve, we are holding plans loosely for the 2021 Annual Members' Meeting.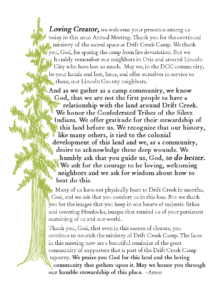 Details from the 2020 gathering:
Recorded Zoom call of Annual Meeting
Typically there is a fundraising auction the afternoon of Annual Meeting. Since we were not able to host an auction, we are working to create some new camp apparel items as well as bring back some favorites from past years. (If you have a favorite camp shirt that you'd like to see reprinted, let us know! Your suggestions and design ideas are welcome!) Consider some new gear for those campers on your Christmas shopping list!
Sadly, this year would have marked Drift Creek's 60th Anniversary. Since we won't be able to gather in person this fall, we will look for new opportunities to celebrate in the future!
Unable to attend but like to contribute? Consider these options:
Become an annual member, become a lifetime member, make a financial donation, make plans to volunteer! Did you know that (in normal times!) DCC is used year-round by families, churches, Kitchen help is needed throughout the year and we can work around your availability.  Call 971-600-1244 or email info@driftcreek.org for more information. We are looking for volunteers to help with projects around camp. We'd love to have your helping hands! If you are interested in working on a facility project, please let us know!
One gift of the pandemic is that Yamhill is available for families/small groups. If you'd like to spend a couple of days in the forest, we'll put you on the schedule. One night is $100, but 2 or more nights and it's $75/night. The cabin has a small kitchen with all the basics. Perfect for a quiet getaway form the world's current crazy.