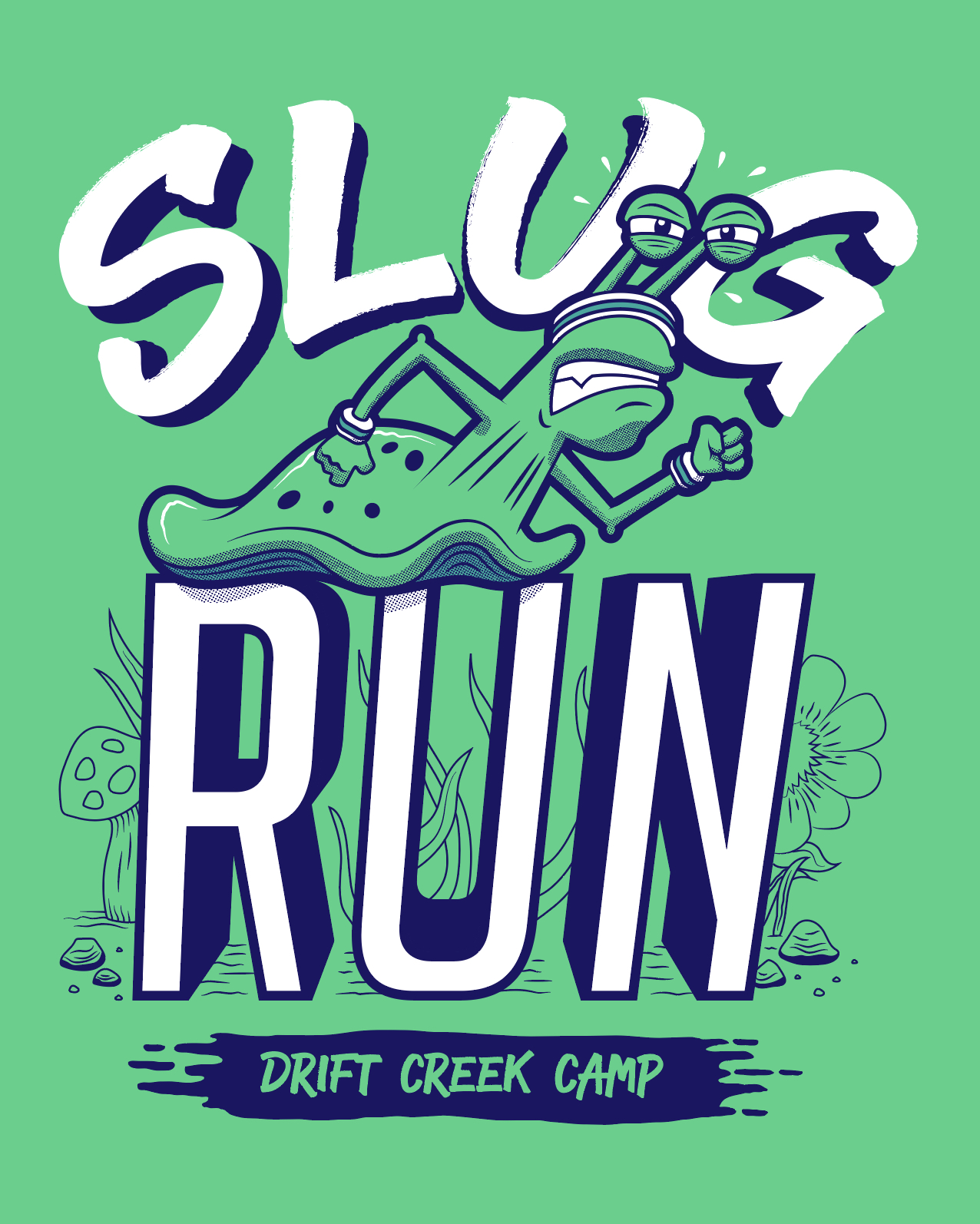 Looking for a fun opportunity to get some exercise? Enjoy beautiful surroundings AND to support Drift Creek Camp? Well, here you go! Join us for the first Slug Run on Saturday, September 28 in Hubbard, OR!

Sept. 28, Cedar Vale Events: 6486 S. Sconce Rd. Hubbard or 97032
Do you love DCC? Are you missing your favorite camp friends and pizza rolls? Need a way to spend time in the woods while having a blast?
Come join us for the DCC Slug Run! This is a TRAIL run/walk to help raise funds for this summer's camp closure while providing an opportunity to catch up with friends, old and new. Bring the whole family! Here are the details…
• Date Sept. 28, Cedar Vale Events:  6486 S. Sconce Rd. Hubbard or 97032
• packet pickup/registration at 9am, run at 10am, awards at 11am
• Options for: 1-mile walk/run, 5k walk/run, virtual run (includes shirt)
• Cost: $35/adult, $20/child (6-16), kids 5 and under are free to run/walk but can purchase a shirt for $10; Family max (4+ people) is $100
• Post-race awards: U10, 11-20, 21-35, 36-50, 51-65, 66+ prizes for first in each age group and top three male and female overall
• Everyone gets a finisher medal (wood medallion)
• Post-race raffle (tickets available for purchase, $1/each)
• Raffle items Include yummy baked goods, DCC swag, Steel Bridge Coffee, and more
• Cinnamon rolls, pizza rolls available for purchase after the race
Course description:
One-Mile Walk/Run: The course begins with a brief downhill jaunt and a "choose your own adventure" uphill option.  Do you want to use tree roots to help you get up a short hill, or would you rather take a smooth, sloping route?  From there the terrain levels out in the forest on a mile long loop, passing by a creek in the shade of the trees.
5k Walk/Run: The course begins with the One-Mile loop, then goes onto the road for half a mile out and back (including a hill), then finishes up with another One-Mile loop.
Sign up by September 15th to guarantee t-shirt (there will be some extra but quantities are limited)