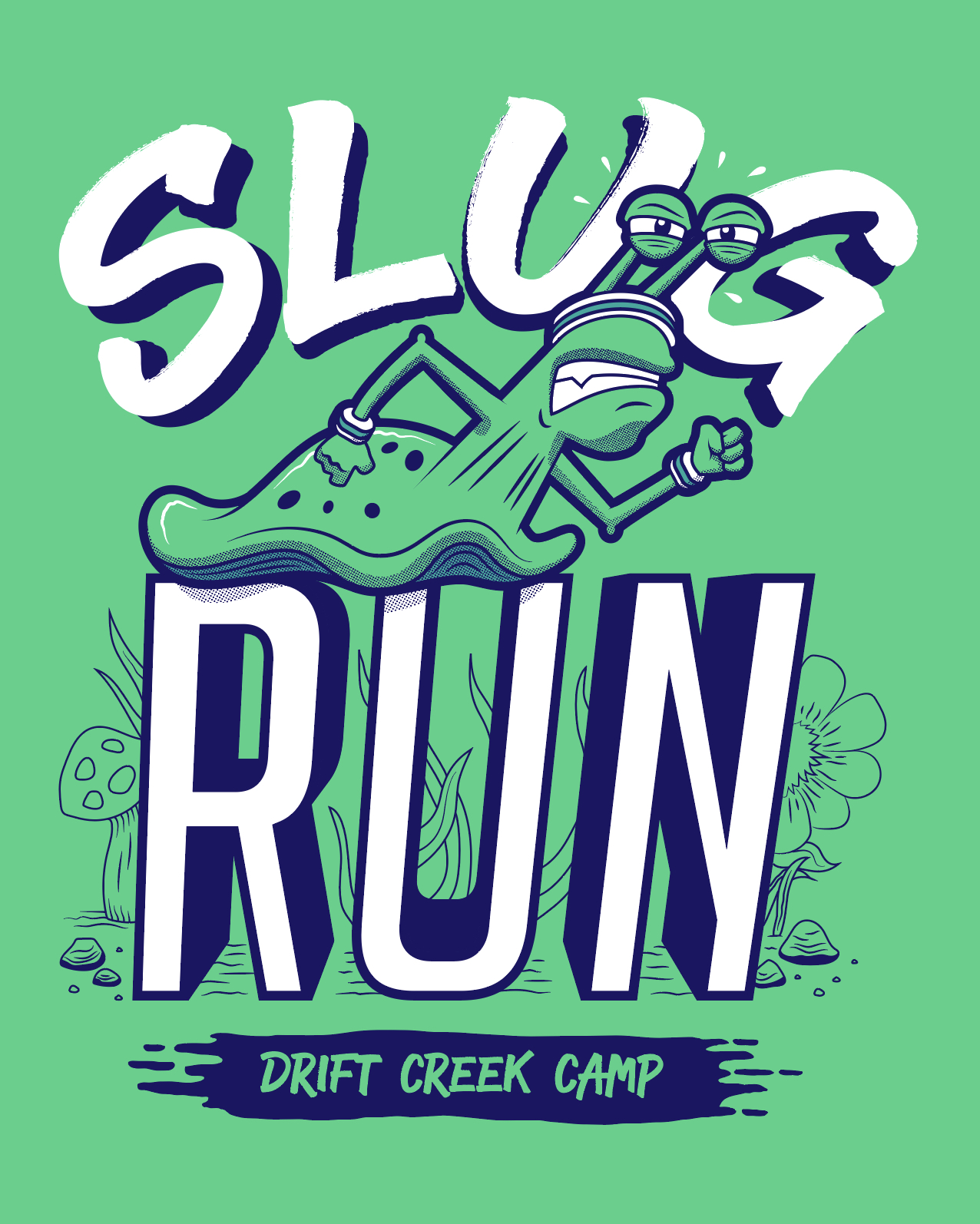 Registration Online at this Link
Summer Camps were canceled the summer of 2019 while the culvert at North Creek was replaced. In an effort to make-up closure losses, the DCC Board hosted The Slug Run!
The 2019 Slug Run was September 28th at

Cedar Vale Events

: 6486 S. Sconce Rd. Hubbard or 97032
Do you love DCC? Are you missing your favorite camp friends and pizza rolls? Need a way to spend time in the woods while having a blast?
Come join us for the DCC Slug Run! This is a TRAIL run/walk to help raise funds for this summer's camp closure while providing an opportunity to catch up with friends, old and new. Bring the whole family! Here are the details…
• Date Sept. 28, Cedar Vale Events:  6486 S. Sconce Rd. Hubbard or 97032
• packet pickup/registration at 9am, run at 10am, awards at 11am
• Options for: 1-mile walk/run, 5k walk/run, virtual run (includes shirt)
• Cost: $35/adult, $20/child (6-16), kids 5 and under are free to run/walk but can purchase a shirt for $10; Family max (4+ people) is $100
• Post-race awards: U10, 11-20, 21-35, 36-50, 51-65, 66+ prizes for first in each age group and top three male and female overall
• Everyone gets a finisher medal (wood medallion)
• Post-race raffle (tickets available for purchase, $1/each)
• Raffle items Include yummy baked goods, DCC swag, Steel Bridge Coffee, and more
• Cinnamon rolls, pizza rolls available for purchase after the race
There will be free coffee, cider, and hot chocolate after the race.
Raffle tickets are $1 each and raffle prizes include: camp swag, campships for 2020, baked goods and a Steel Bridge hydroflask, to name a few.
Course description:
One-Mile Walk/Run: The course begins with a brief downhill jaunt and a "choose your own adventure" uphill option.  Do you want to use tree roots to help you get up a short hill, or would you rather take a smooth, sloping route?  From there the terrain levels out in the forest on a mile long loop, passing by a creek in the shade of the trees.
5k Walk/Run: The course begins with the One-Mile loop, then goes onto the road for half a mile out and back (including a hill), then finishes up with another One-Mile loop.
Sign up by September 15th to guarantee t-shirt (there will be some extra but quantities are limited)